Areeba Habib's Apology To Zara Noor Abbas Following FPW 2018
Reportedly, on the instance of FPW 2018 which took place last week, abundant of models and thespians walked for some renowned designers. Amidst phenomenal and chic designs and apparels, designers chose to depict their style pertaining to few pivotal social issues our country has been encountering since quite a while. Amidst glamorous models and subtle designs, the inventors chose to bring their A-game to the show albeit rather responsibly. The adroit portrayal included issues like water crisis, gender inequality, harassment and retaining Jinnah's Pakistan.
Zara Noor Abbas has become a well-known face for a while now, for her commendable acting skills and a comely personification. She has been garnering a place in headlines for her wedding with the talented Asad Siddiqui last year. The starlet has been featured in the fashion show, divulging a brave and confident walk on the ramp.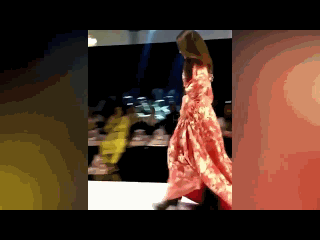 Following her distinctive walk, a model, Areeba Habib posted a video of herself along with her friends, Farwa and Javeria as her Instagram story, mocking the walk.
Here is the video,
The above video drove a social media outrage with ample people bashing the models for their hideous act but Zara, with absolute decency, gave her two cents on the ongoing social media procession.
Hey Dear Stunning Models!! You girls look amazing in this video and thank you for making me learn a few things about the world. Now i cant complain why women in the world have to fight so much for gender equality. That is because women don't build women. They bash at eachother like this. It's so sad. So so sad for all the people who are trying to empower women. They don't know that it is the women who dont let eachother grow. I am an Actor, not a model. I cant even imagine to be a model. It is so effortlessly amazing and tiring at the same time. But as an entertainer, it is my job to entertain my audiences. And thats what i did with my walk which was based on the theme of a warrior princess thus the belt and the boots were incorporated in my outfit. That is why designers choose actors as showstoppers for their walks. To add more drama. Some liked it, some didn't. My designer was happy and so was I.

-Zara Noor Abbas
She even wished them luck, saying, "But anyway, all the best for tonight. Run the world, Girls!!"
However, following the post, Zara uploaded, Areeba Habib also decided to take Instagram as her podium, but to apologize for ridiculing the actress. She posted,
The model has apologized but she has clarified that the video was 'private'. Furthermore, she has blamed the supposed 'third party' to intervene and diminish the privacy. She has also taken all the guilt on her head and said, "I take full responsibility for uploading the video, and my colleagues had nothing to do with it."
Well, we are still waiting for the starlet to reply to this apology. We wish well for the actress and the models tool.
What are your thoughts on the story? Tell us in the comments below.
Masters in Journalism.
An avid reader, food enthusiast, and a writer, by passion.
Currently working at ARY Digital Network as the Editor, Life & Style