Atif Aslam's New Song Crosses 11 Million Views In Just 4 Days.
Having started his career as an actor in Pakistani movie Bol, AtifAslam garnered most fame as a singer by his impeccable performances around the globe with his song Tajdar-e-Haram turning out to be the first ever song by a Pakistani to cross the 100 Million views' mark on Youtube in November 2017.
Apart from numerous Bollywood starrers, seven songs which were vocalized by the heartthrob, made it to international cinema. Two of them; 'Yakeen' and 'Ehsaas', and a single 'Aadat' from his first album Jal Pari featured in Ramin Bahrani's 2005 film Man Push Cart which has won international awards and was praised by critics. Two other songs, 'Doorie' and 'Maula', were selected in 2010 for the soundtrack of Spanish Beauty. He then sang two songs; 'Bol Ke Lab Azaad Hain' and 'Mori Araj Suno', in Mira Nair's 2012 film The Reluctant Fundamentalist.
The exceptional artist won over twenty awards locally and internationally and got a chance to be included in the nominees for prestigious awards like MTV and IIFA.
Recently, the IIFA awards nominee, sang a song along with Shirley Setia, in collaboration with DJ Chetas. The song came out on 5 January and managed to garner more than 11 Million views on Youtube in just 4 days. The song released just in time for Valentine's Day and is trending at number 1 on YouTube currently, being an absolute jaw dropper.
The song is a remake of Bollywood's historical 'Jab Koi Baat', sung by the legendary, Kumar Sanu for the movie, Jurm.
The song revolves around how Atif Aslam and Shirley Setia plan to crash a wedding ceremony in Thailand. The whole scenario is initiated by DJ Chetas as he calls both the singers and informs them about his new project. The singers, along with DJ Chetas, look utterly enthusiastic about their performance as they meet brother of the groom in order to visit the venue for the sound check and other necessary arrangements. The video also exhibits the artists having a fabulous time at breathtaking locations, other than the venue, including an ancient architectural place and a strand.
Also, Atif Aslam and Shirley Setia look uber-adorable during the whole music video which will surely get your eyes glued to the screen.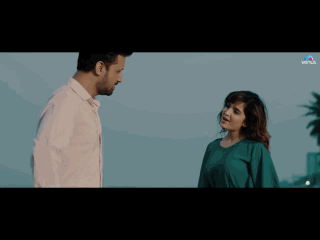 Subsequently, the performers decide to crash the wedding and appear from the audience leaving the bride and groom flabbergasted.
The couple couldn't resist taking the stage and dance glamorously oozing their infinite excitement. The hits this song is getting, it doesn't seem to stop anywhere, anytime soon.
On a scale of 1-10, how will you rate it? Tell us in the comments below.
Masters in Journalism.
An avid reader, food enthusiast, and a writer, by passion.
Currently working at ARY Digital Network as the Editor, Life & Style