Check Out The 89th Academy Award Winners list
A spectacular night where Hollywood stars were gathered under one roof was mesmerizing, Some took the Oscars and some were empty handed preparing for another flare-up work. The 89th Academy Awards ceremony held dated 26th February 2017 at the Dolby Theater in Hollywood, the show was hosted by the comedian Jimmy Kimmel for the first time.

The best movie award was stole away by "Moonlight" and in total the movie won 3 category awards, However another movie "La La Land" won altogether 6 awards.
Spoiler Alert!! Observe the moment when an announcement was made for the best film to 'La La Land' by Warren Beatty ,however the wrong nominee was rechecked by the producer of 'La La Land' Jordon Horowitz and confirmed the movie 'Moonlight' to win the best film.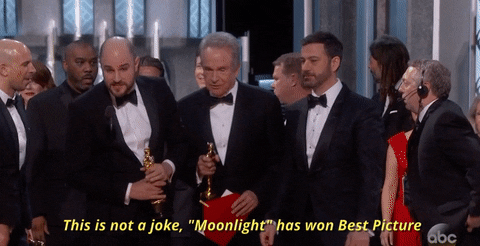 The moment of hand to hand award slipping was an epic and surely the quirkiest instant in Oscar's history. This is marked as  a story to tell our generations "Once upon a time at 89th Oscars " lol, Well Beatty explained that he was handed with the wrong envelop which says Emma Stone for 'La La Land' .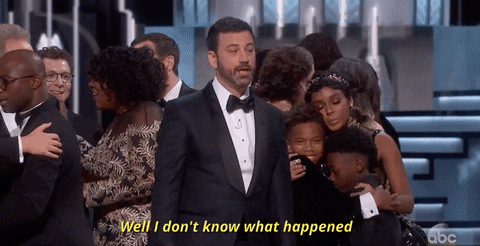 The cast of "Moonlight" was enthralled and were off the guard, it was a turn table situation and definitely the lesson to be learnt, next time the audience will suffer more with anxiety and yes it will the nominations to blame for.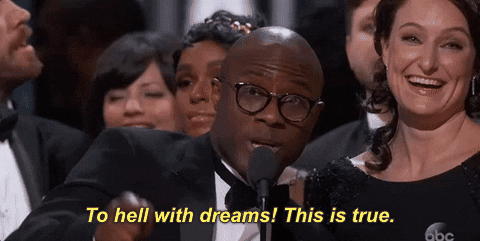 The nominees of the awards was declared in January 2017. It has also been observed that the movie La La Land has achieved its position as paralleled to the movie Titanic in 1997.
Here is the list of the Oscars winners for 2017.
Best picture: Moonlight
Best animated feature film : Zootopia
Best Directior: Damien Chazelle
Best Screenplay: Moonlight
Best Actor: Casey Affleck
Best Supporting Actor: Mahershala Ali
Best original music: La La land
Best cinematography: La La Land
Best live action short film: Sing
Best actress: Emma stone
Best supporting actress : Viola Davis
Best original screenplay: Manchester by the sea
Best foreign language film: The salesman
Best documentary feature: O.J made in America
Best original song: "City of stars" Duet Emma stone and Ryan Gosling
Abia Gill is a passionate writer. To her writing is a creativity that can develop a sense of rhythm and timing in story telling.