Baby Baji leaves all eyes in tears with a thought-provoking finale
Baby Baji is a heartwarming drama that revolves around Siddiqui Sahab, his wife Baby Baji, and their four sons, living together in a joint family system. Baby Baji, portrayed brilliantly by Samina Ahmed, always tries her best to hold the family together through the thicks and thins.
Siddique Sahab plays a pivotal role in maintaining harmony and stability. His presence is a source of strength for the family members, and he ensures that the household remains united. However, tragedy strikes when Siddique Sahab passes away, leaving a void that has a profound impact on the family dynamics.
The eldest son, Jamal, emerges as the responsible and level-headed individual of the family. He looks up to his younger brothers and always strives to maintain peace among family members. His wife, Azra, has a contrasting character, often loud and obnoxious. She consistently pushes for a separate living arrangement and doesn't see eye to eye with the rest of the family. Her greed and sense of entitlement create tensions within the household.
Naseer, the second son, finds himself trapped in a loveless marriage with Asma. He had originally desired to marry someone else, leading to dissatisfaction and conflicts in his married life. Asma, on the other hand, is meek and she often tries to stay silent for peace among family members. Because of her calm and composed personality, she is always favored by Baby Baji. However, she and her son face emotional and physical abuse from Naseer, making their life a constant struggle.
Wasif, the third son, starts as an unmarried member of the family but later marries Farhat. Similar to Azra, Farhat harbors the desire for a separate home.
Waleed is a caring and affectionate member of the family, who has a cute bonding with Saman. He is remarkably caring towards his parents. Waleed has earned immense respect and appreciation for being a child who fulfilled every duty towards his parents and siblings. Here is a glimpse of the audience's tweets, showering love for the character of Waleed: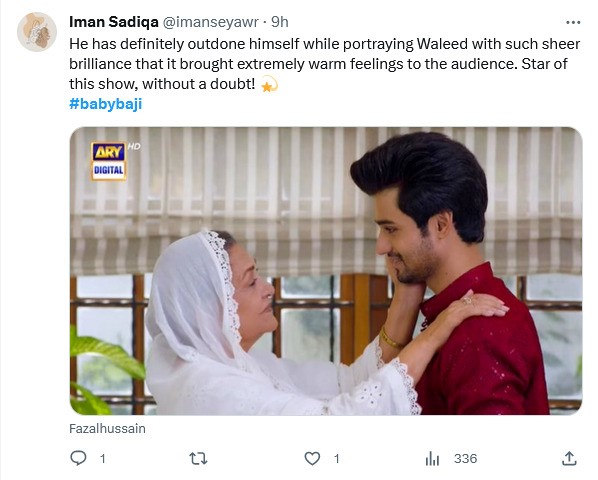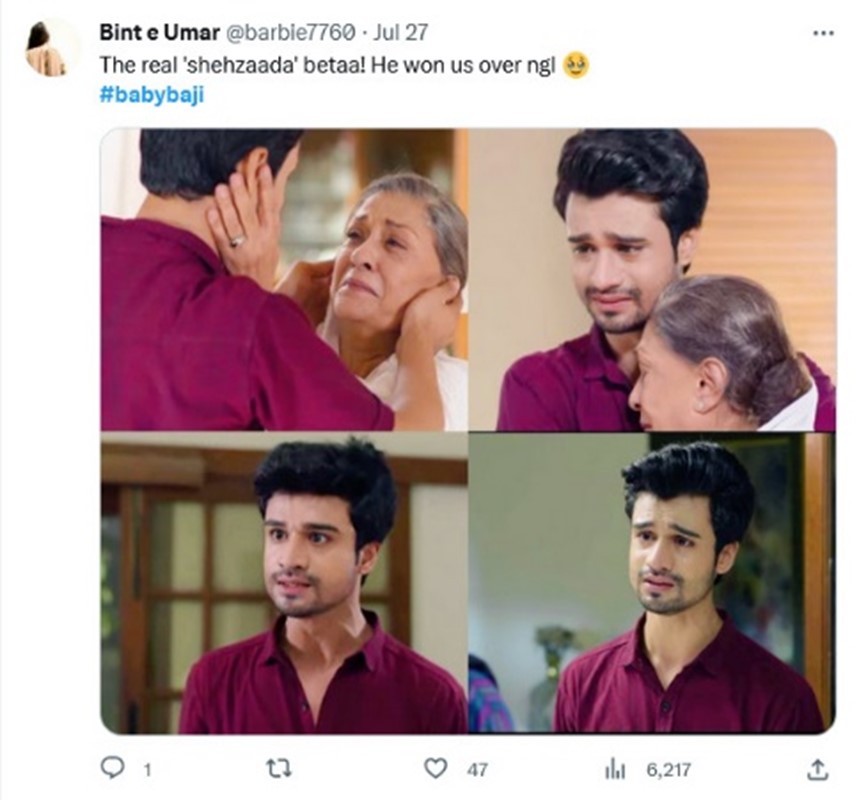 After the passing of Siddique Sahab, the once close-knit family starts to drift apart. Baby Baji faces numerous challenges as Azra and Farhat reject her, leaving her in a vulnerable position. Asma, who wanted Baby Baji to stay with her, faces resistance from Naseer. Waleed leaves for Lahore to pursue a career, but upon his return, he finds his heaven living in an old age home.
Gutted Waleed unveils Azra's cruel face in front of Jamal and questions all his elder brothers for the heart-wrenching treatment of Baby Baji.
Also Read: Kuch Ankahi — Stereotypes break here
Towards the end, Naseer realizes the errors of his ways after getting ditched by his past love and seeks forgiveness from Asma, promising to change for the better as Asma has filed a khula case against him.
Baby Baji passes away, peacefully, soon after Waleed engages with Saman, as if this was her only responsibility left.
The drama subtly emphasizes the importance of reconciliation before it is too late. Azra comes to apologize to Baby Baji for her wrongdoings, but all these pleas will remain unheard.
It's so disheartening to see Wasif as the only child who couldn't see or give a shoulder to his mother for the last time. He is devastated because he could not get a chance to be a part of her final rituals.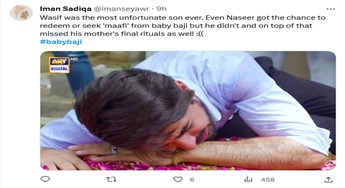 The brothers gather around their parents' graves, praying for them and that's what the audience said about it: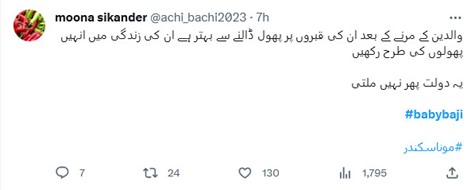 Baby Baji drama serial strikes a chord with its viewers by delving into the complexities of family dynamics and the challenges faced in a joint family system. Despite getting aired on a 7 PM slot, the drama impresses with its powerful performances, relatable storytelling, and heartfelt emotions. It serves as a reminder of the significance of forgiveness, compassion, and the strength of family bonds.
Read: Javeria Saud aka Azra bids farewell to 'Baby Baji' 
By, Bisma Rub Khan,
Emaan Abdul Wahid
Media Science Students,
Currently Interns at ARY Digital Network