In Pictures: Syra and Shahroz Celebrate Baby Nooreh's Unicorn-themed Birthday
Having garnered infinite love and praise for their commendable acting in ARY Digital's 'Tanhaiyan Naye Silsilay', The suave, Shahroz Sabzwari and the gorgeous, Syra Shahroz went on to become one of the most favorite couples in the entire Pakistani fashion and drama fraternity. Ever since they have gotten married, Syra and Shahroz never missed a chance to admire each other via their social media posts.
Read Also: Syra And Shahroz Are Giving Us Some Serious Couple Goals!
The cuteness of this family is not just confined to Syra and Shahroz, their immensely adorable daughter, Nooreh, makes the entire Sabzwari clan loved by a huge populace in Pakistan and abroad. Nooreh, on variable instances, appears on her parents' Instagram profiles because of her uber cute array and because of the love, her parents carry for their little baby girl.
Read Also: Syra Yousuf Looks Ethereal On A Friend's Wedding
On the occasion of Nooreh's birthday, Mommy Syra has posted this photo on her Instagram account saying, "You have my heart. And you always will."
In another post, she uploads a photo of her entire family oozing infinite charm with a beautiful Rumi quotation.
Little Nooreh's parents have decided to organize a fabulous birthday party for her and invited close family and friends, making it a small but grand affair. From the exquisite decor to the beauteous cake, everything at the birthday party has been completely on point. Have a look at these photos from the unicorn-themed birthday party.
Donned in a beautiful Pink and white striped outfit, Syra uploads this photo of herself, her dapper hubby, wearing a light pink shirt and the cutest, Nooreh, dressed in a pretty frock, with the unicorn-themed cake, and an abundance of Marshmallows.
Nooreh's parents stand with her aunts, Hina Mir and Momal Sheikh and their children, having props on.
A little bit of Boomerang in the parties is never a bad idea. Syra shares this adorable Boomerang on her Instagram story delineating the cutie, Nooreh, all dolled up for her birthday celebration.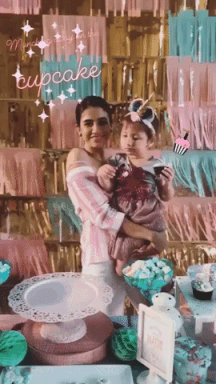 Yesterday, Nooreh's super-dad has posted this photo on her Instagram account, having his daughter and his parents; the maestro, Behroze Sabzwari and Safina Sheikh.
May the cutie, Nooreh have a beautiful life with love and happiness galore.
What are your views on this story? Have your say in the comments' section below.
Masters in Journalism.
An avid reader, food enthusiast, and a writer, by passion.
Currently working at ARY Digital Network as the Editor, Life & Style